Zippo Tricks DVD from Lightertricks.com (Best Tricks for your Zippo video tutorial)
Interactive video produced by Lightertricks.com, (before known like zippotricks.com) where teach to you step by step, in slow motion and from different angles like making the best tricks with your Zippo lighter, from the simple ones to craziest; as well as the ideal techniques of maintenance so that your Zippo is always in its point.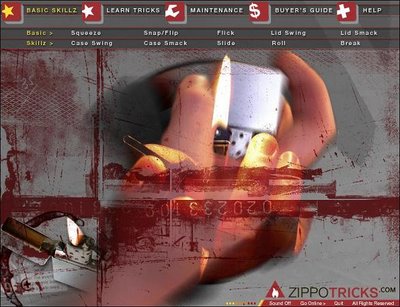 Both pages were forced to close by the "U.S. National Fire Protection Association" (NFPA), or what is the same the National Association of Fire protection of the United States; since they attempted against the security of the homes when teaching to smaller dangerous tricks with his lighters and the video was let commercialize.
Download files, decompress (they do not have passwords) and run startMe.exe.
Enjoy Zippo Tricks video tutorials!
Download links:
Zippo_Tricks Part 1, Zippo_Tricks Part 2, Zippo_Tricks Part 3